1st May 2020
British summer officially lasts from 21st June until 23rd September, but that doesn't always mean three months of blue skies and sunshine.
As gloomy as it often is in this country, once the annual headline grabbing "heatwave" does materialise I find it doesn't take long until enjoyable become "it's too hot now".
You really know it's summer when the bedroom refuses to drop to a comfortable temperature even in the early hours of the next morning. With nothing but still, warm air outside, opening a windows does little apart from let the noise and insects in.
At times like these, a portable (floor standing) air con unit can make a real difference to sleep quality and comfort in general. But how much do they cost to run, and what do you need to pay to get the best performance?
Comparison Table
De'Longhi Pinguino PACEX100
Affiliate links / prices updated 2023-12-10
BTU
The BTU (British Thermal Units) rating of these air conditioners indicates how large a room they can cool. BTUs measure the amount of heat that an air conditioning unit can remove from a room each hour. You can calculate the required BTU of a room using this BTU calculator.
Energy Rating
All air con units are big heavy things that use a lot of electricity. When the compressor is running they will draw around 1000w from the wall socket. Bear in mind that the compressor will not run constantly, but only until the room reaches the desired temperature, at which point the air conditioner will just function as a fan until the temperature increases again.
The De'Longhi particularly impresses here, as it can cool a 10-20% larger area compared to the other units, while using the same amount of electricity.
Running Costs
According to this comparison website, the average cost of electricity in the UK is around 18.9p for 1 kWh. While some of the lower priced air conditioners might seem cheaper to run as they only draw 500-800 watts, they would need to run for longer to cool the same area.
Taking a bedroom that requires 5000 BTUs of cooling as an example, the more powerful units will only need to run for a short time, where as the lowest power model might need to run continuously for the whole hour.
Refrigerant GWP
GWP stands for Global Warming Potential. Fortunately none of the air con units here use any CFC containing refrigerant that damages the ozone layer. The green house gases produced and effect on global warming depends on the type of gas used and is shown in the table below:-
| | | |
| --- | --- | --- |
| Model | Refrigerant | GWP |
| De'Longhi Pinguino PACN82 Eco | R290 | 3 |
| De'Longhi Pinguino PACEX100 | R290 | 3 |
| Inventor Chilly 9,000BTU | R290 | 3 |
| MeacoCool MC Series 10000CH | R410A | 2088 |
| Jack Stonehouse Portable 5000BTU | * | ? |
* (Jack Stonehouse do not list refrigerant on their website)
As you can see, the type of refrigerant has a massive effect on the potential environmental impact. Models that use R290 are the ones to aim for.
Roundup
Jack Stonehouse 5000BTU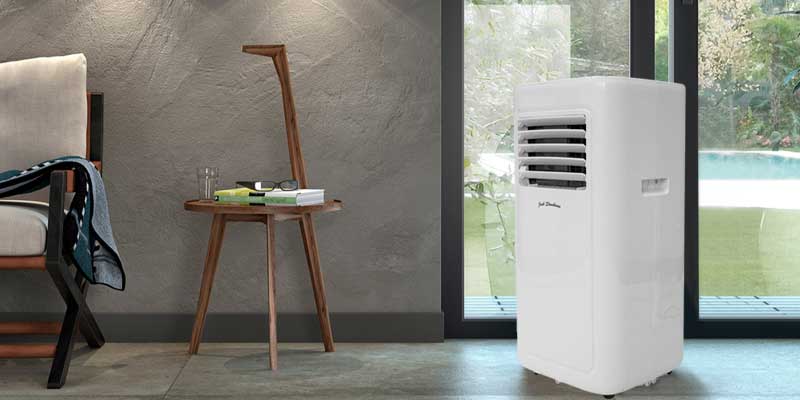 The 5000BTU is the cheapest unit here. It also has the lowest cooling power at 5000 BTU although the company also offer an 8000BTU model for around £50 more.
There are three fan speed settings, and the front vent can be adjusted to alter the direction of the airflow. It also has a 24 hour timer.
The relatively low cooling power means it could struggle in larger rooms, but this could in fact make it a sensible choice for occasional use in a bedroom to tame the few hot nights we get per year.
Jack Stonehouse Portable 3 in 1 Air Conditioner, Dehumidifier and Fan, 5000BTU, Covers 8m2, Quiet, Sleep Mode, 2 Fan Modes, Energy Efficient, 24 Hour Timer, Remote Control (5000BTU)
3-IN-1: Air conditioner, dehumidifier, and fan options. Includes 2 fan levels: high and low. Can be controlled from the electronic touch screen display.
PORTABLE: Optimum portability with its compact size and easy to store away when not needed. Mounted on castor wheels with side handles for easy manoeuvrability.
LARGE ROOM COVERAGE: 5000BTU air conditioning unit can effectively cover up to 8m2.
ENERGY EFFICIENT: Class A energy rating with an easy-to-use electronic touch screen.
Inventor Chilly 9000BTU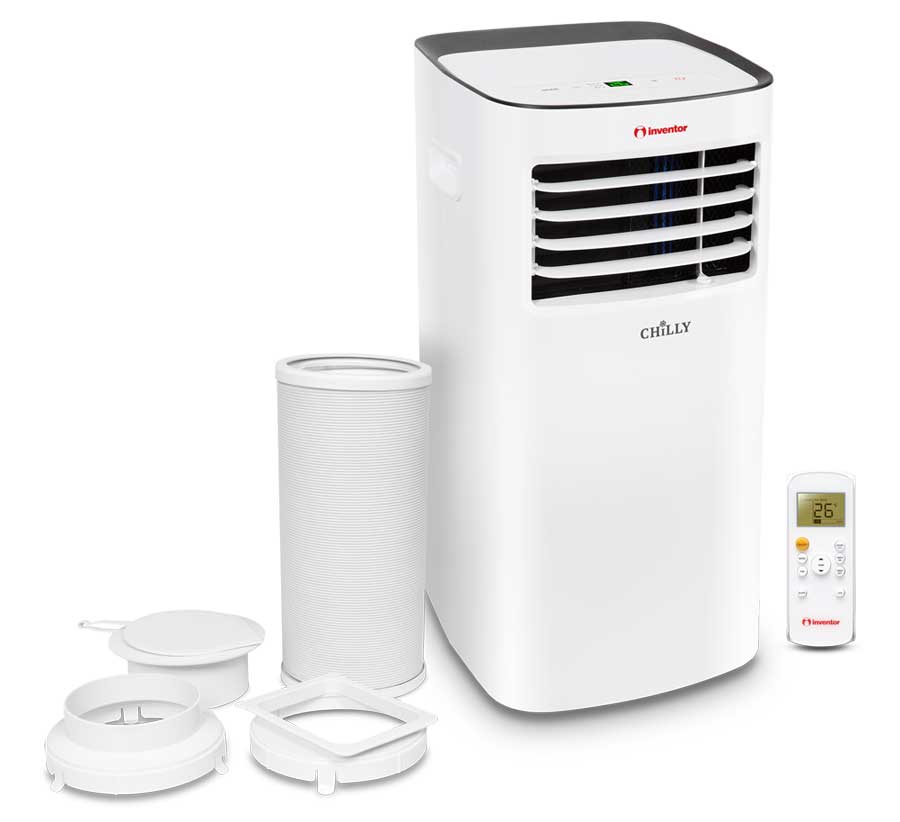 Not the most powerful model here but its 9000 BTU cooling power should be sufficient for most rooms. With relatively compact dimensions of 35.5 cm (W) x 34.5 cm (D) x 70.3 cm (H) it shouldn't take up too much space either. It offers four modes: Cool, Dry, Fan and Sleep.
The Chilly boasts a large 50 litre per day de-humidifying capacity and the self evaporating system lets it remove the condensed moisture from the unit without manual draining or setting up a hose for continuous drainage.
Another bonus is it's use of the latest R290 eco-friendly coolant.
Inventor Chilly 9000BTU Portable 3-1 Air Conditioner, Dehumidifier, Cooling Fan with two Fan Speeds Digital Display & Remote Control, and 24 Hour Timer for Rooms Up to 215ft (WEE/MM0449AA)
POWERFUL COOLING: Chilly Air Conditioner of 9,000 BTUs, delivers an instant cooling relief for your bedroom, living room or office place. The unit, delivers a max power of 9000BTU for areas that are ideally up to 215 square feet (20m2).
REAL-TIME DISPLAY & CONTROL: Chilly includes a digital display indicating the current temperature, view in °F or °C. Its multi-functional control panel plus the remote control allows you to set time, adjust the temperature & switch between modes easily.
3-in-1 FUNCTIONS: Chilly, integrates 3 convenient modes: cooling mode, to chill your room in hot weather conditions; fan mode to deliver either gentle or powerful air stream; dry mode to dehumidify the air and keep the room humidity from 40% to 60%.
COMPACT & PORTABLE: Space-saving design with easy-roll omnidirectional & durable casters that helps you move your "Chilly" wherever is needed the most.
De'Longhi Pinguino PACN82 Eco
De'Longhi Pinguino PACEX100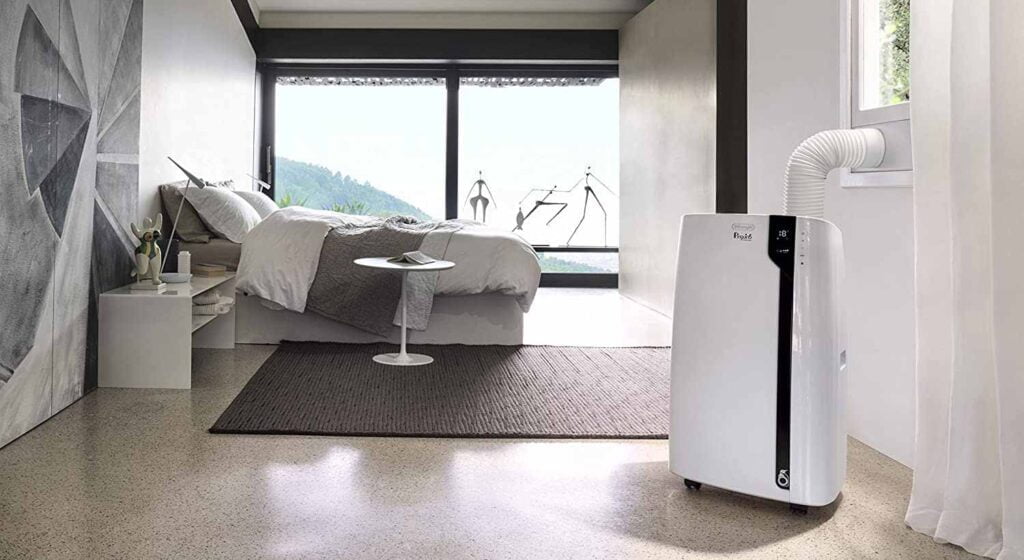 De'Longhi Pinguino PACEX100 Silent | Portable Air Conditioner with Real Feel Technology | 110m³, 10,000 BTU, A++ Energy Efficiency
The PAC EX100 Silent uses a natural high efficiency gas, propane R290, which has no greenhouse emissions. A+ energy efficiency class.
Using Silent Technology, this Pinguino unit operates at 47-53 dB(A), meaning your relaxation won't be disturbed.
The PAC EX100 silent can be used in dehumidify-mode only, capable of removing up 24 litres of water in one day, ideal for damp rooms, rainy periods, or for protecting your home or office against excessive moisture which can cause mould and mildew.
The simple remote control allows easy use of all the features of the appliance.
MeacoCool MC Series 9000CH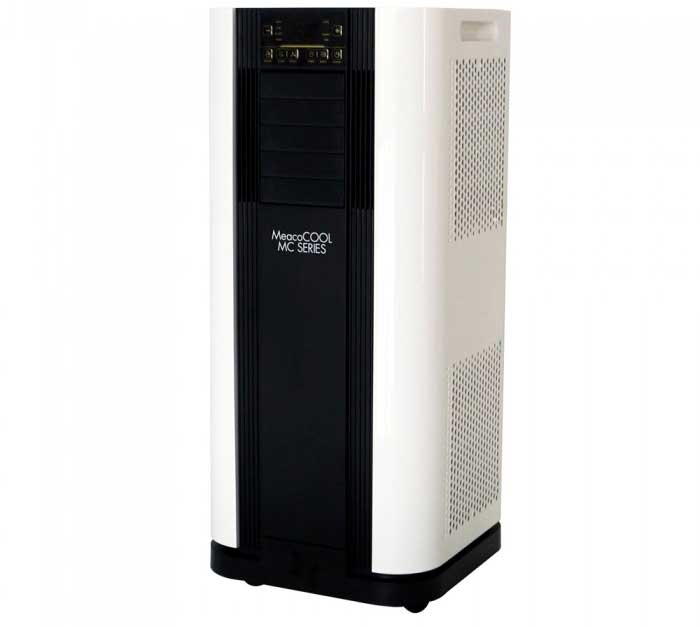 The MeacoCool MC offers the second highest BTU power here for a very reasonable price. It's nice to see a 2 year warranty as well.
Another stand out feature of this model is that it's the only one here that also offers a 9,000 BTU heater function as well as the usual cooling (10,000 BTUs) and de-humidifying.
It's a tall but fairly narrow unit measuring 74cm x 32cm x 32cm, and weighs 26kg.
It does have a relatively high power draw of 1085 watts and uses older and less environmentally friendly R410A coolant. These combine to give it the lowest energy efficiency rating here. If you're looking to cool a large area however, the purchase price could offset this.
While the De'Longhi is significantly more efficient, the MeacoCool MCs lower asking price may mean it actually works out better value if you're only likely to run it for a couple of weeks per year.
Meaco MeacoCool MC Series 10,000R Portable Air Conditioner - Powerful Portable Air Conditioner, Energy Efficient with Two Window Venting Kits included
POWERFUL COOLING FOR HOME OR OFFICE ROOMS - 10,000 BTU capacity allowing for strong and effective cooling in living rooms, bedrooms and offices with a size of between 18² to 28m²
ENERGY EFFICIENT & EXTRA QUIET- The MeacoCool has been awarded a class A energy certificate, to help ensure that removing the hot,humid air from your room this summer will not cost the earth. In low fan speed the new and reduced sound pressure level of just 51.5dB(A) makes this an easy portable air conditioner to live with.
REMOTE CONTROL AND DIGITAL DISPLAY - Stay in charge with the easy-to-use display and remote control. Adjust temperature, engage sleep mode to ensure you get a restful nights sleep.
FREE FLEXIBLE WINDOW KIT & CASTORS INCLUDED: A standard rigid window kit suitable for sash windows is included along with a free flexible window kit that covers most window types worth £19.99 to vent the hot air. Castors are fitted making it easier to move from room-to-room.