28 Feb 2023
5G coverage continues to increase across the UK, and network speeds can beat traditional fibre to the cabinet cable broadband.
5G can't yet match the speed of Gigabit Full Fibre, but it has the advantage of lower cost and much shorter contract lengths.
All that's needed is a 5G router and sim card…
Affiliate links ¦ prices updated 2023-09-21
D-Link DWR-978 5G
The D-Link DWR-978 offer a maximum 5G download speed of 1,600 Mbps which is fairly average among it's competitors. Surprisingly D-Link quote just 80 Mbps 5G upload which is extremely slow, in fact many 4G routers can upload faster.
On the positive side it has four full Gigabit network ports which is more helpful than all the other 5G routers here which only have two. This is something to bear in mind if you plan to connect several devices wired instead of wirelessly.
Another plus point is the external antenna connectors. The DWR-978 uses SMA which historically has been the more common connection type for 4G external antennae. If you already have an SMA 4G antenna it'll plug straight in rather than needing a replacement TS9 antenna or SMA to TS9 converters.
The DWR-978 falls flat in two areas; 4G performance and price.
It only has Cat4 4G which means a maximum of 150Mbps download and 50Mbps upload. Most other routers here offer a minimum of Cat19 4G which gives theoretical speeds 10 times higher than the D-Link (1,600 / 300 Mbps down / up).
At the time of writing the price is way higher than can be justified by the spec of the router.
Prices are monitored and updated daily. It's worth checking back on the DWR-978 to see if the price drops over time.
At the moment however, there are far better spec'd routers available for under £300. If it were to drop to around £200 then it would be worth considering.
Huawei 5G CPE Pro 3
Huawei was one of the first to release a 5G router back in 2019 and performed very well in our previous 4G router group test.
The third version featured here (CPE Pro 3) offers the same attractive styling and fast 4G and 5G that won group tests in pervious years.
However in 2023 other manufacturers have entered the 5g router market and now offer equal or better performance along with lower prices.
5G
The CPE Pro 3 uses the same Balong 5000 5G chipset as the previous model. This offers theoretical Gigabit+ speeds (1,800 Mbps down and 250 Mbps up in this case).
Real world results in the UK can reach 400-500 Mbps downloads, depending on location as always.
4G is LTE Cat19 which gives a maximum 1,600 Mbps down and 150 Mbps up.
Networking
There are two Gigabit Ethernet ports on the rear. Wi-Fi is 802.11 AX1800. At close range this can exceed Gigabit transfers speeds and also gives access to a wide frequency spectrum to avoid overlapping with other nearby networks.
There are no external antenna connectors so the routers built in antennas are the only option.
Oppo 5G CPE T1a
The Oppo 5G CPE T1a offers a fantastic 5G spec of up to 4 Gigabit / second (Gbps) download. It also offers top end Cat20 4G download of up to 2 Gbps (* theoretical maximums).
Sadly there are no antenna ports so the signal cannot be boosted via an external antenna.
Networking offers a choice of both 802.11 AX1800 Wi-Fi and a pair of Gigabit Ethernet ports.
At its current sub-£300 price the Oppo T1a beats many competitors on both spec and price.
Before purchase we recommend comparing the price with that of the ZTE 5G MC801A below, as this offers very a similar specification and the price of both routers is usually very close.
ZTE 5G CPE MC801A
A relative newcomer to the 5G router market, the ZTE has coming crashing straight in at number 1!
It equals or betters the spec of Huawei's formerly class leading CPE Pro 3, at a price currently over £100 cheaper.
Its 5G chipset has a maximum download of 3.8Gbps and 542Mbps upload (* theoretical). It also has top of the range 4G performance at LTE Cat 22.
The ZTE MC801A has an identical networking spec to the Oppo 5G CPE T1a (above) with two Gigabit Ethernet ports and 802.11 Wi-Fi6 AX1800.
The ZTE edges victory over the Oppo in two areas:-
It allows the connection of an external antenna via a pair of TS9 ports.
It is also currently a little cheaper than the Oppo at the time of writing which makes it our 5G router recommendation in 2023.
Verdict – Best 5G Router 2023
The ZTE 5G CPE MC801a wins with a combination of great spec and price. The Oppo 5G CPE T1a runs a close second and only loses out through it's lack of antenna connectors and its slightly higher price.
The Huawei CPE Pro 3 is still worth considering but can't compete at it's current price of close to £400.
Buyers Guide
Wi-Fi
All the 5G Routers here have Wi-Fi6 wireless networking. They all come under the category of 802.11ax.
Contained within the Wi-Fi 6 standard are a range of speeds, denoted by the maximum speed after the "ax"
802.11ac is Wi-Fi 5, max 1200 Mbps
802.11ax is Wi-Fi 6, max 3000 Mbps

AX1800 – 1,800Mbps
AX3000 – 3,000Mbps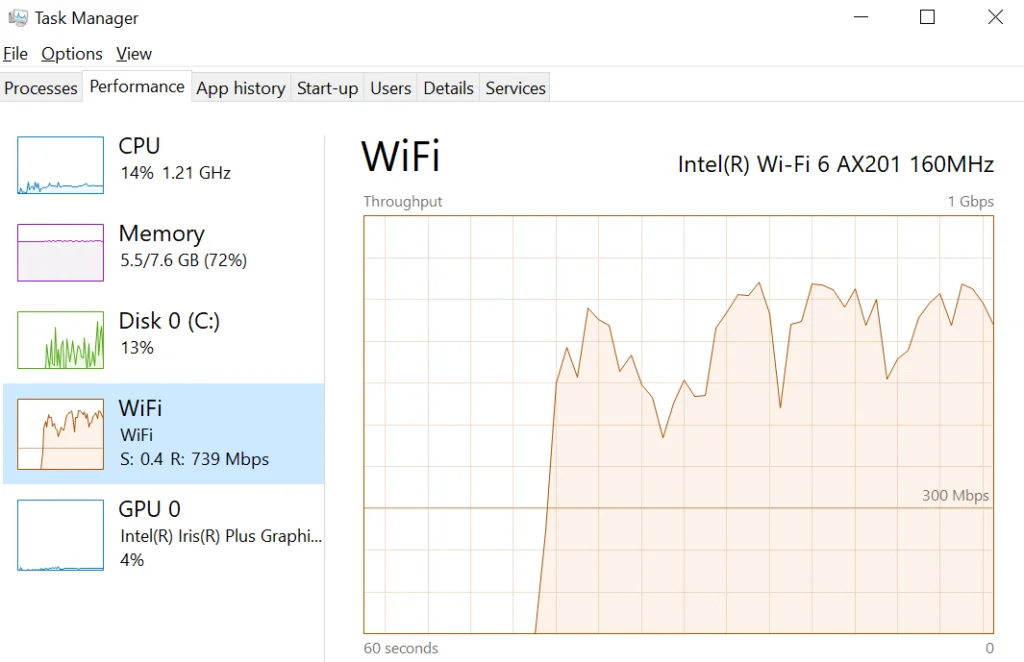 While in theory the speed of these Wi-Fi 6 devices exceeds that of Gigabit Ethernet, in reality it is only in ideal conditions that AX3000 Wi-Fi can beat Gigabit Ethernet.
In the test below when copying data via Wi-Fi on an AX3000 router, the close range transfer result of 105MB/sec may have been bottle-necked by the wired Gigabit link between the router and NAS drive.
It's therefore possible that AX3000 Wi-Fi could have exceeded 105MB/sec at close range. However, once the wireless distance to the router increased to a few metres, the transfer speed dropped to around 80MB/sec and the Ethernet port was no longer a bottleneck.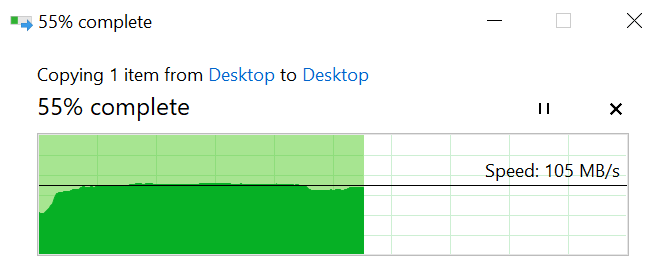 Wi-Fi 6E – AX (Extended)
On the horizon is the latest iteration of the Wi-Fi 6 standard – AX Extended.
Wi-Fi 6E is not expected to increase maximum transfers speeds much further than Wi-Fi 6, but is aimed more at avoiding the ever increasing over crowding and interference as more and more wireless networks fight for space alongside (and on top of) each other.
One of the main differences is the frequency band they operate on. Wi-Fi 6 operates on the 2.4GHz and 5GHz bands, while Wi-Fi 6E also operates on the newly opened 6GHz band, in addition to the 2.4GHz and 5GHz bands. The addition of the 6GHz band provides more available spectrum for Wi-Fi devices, which can help to reduce congestion and interference, and provide faster speeds and lower latency.
Another difference is the number of available channels. Wi-Fi 6 offers only two 160MHz channels, while Wi-Fi 6E allows for up to seven 160MHz channels, which can help to improve data throughput and reduce latency.
It's worth noting that Wi-Fi 6E is a new standard and very few devices currently support it. To take full advantage of the improvements offered by Wi-Fi 6E, both the router and the client device must support the standard.
Ethernet Wired Networking
All the models here have either two or four Gigabit Ethernet ports which allow data transfer at 1,000Mbps (just over 100 Megabytes a second).
While plenty fast enough for internet access or on normal wireless connections, you may have higher end wired devices on your network with 2.5Gb or even 10Gb Ethernet ports. These would mostly likely be NAS (network attached hard drives) or possibly some top of the range mesh wireless access points capable of over 1,000Mbps.
If your work requires data access at full speed to these devices, then a router with 1Gb ports will become a restriction. Models are starting to appear that include at least one 2.5Gb port, which will break this emerging bottleneck.
External Antenna Connections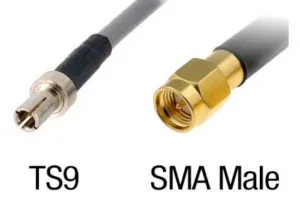 Some 5G routers have moved away from external antennas and no longer provide the required connectors. Those that do come in one of two sizes.
The two types of connector for attaching an external antenna are SMA and TS9. Adapters are also available to convert between the two sizes of connectors.
We've gone into a little more detail on choosing an external 4G antenna here.
Prices updated on 2023-09-21. Affiliate links & images from Amazon Product Advertising API