How do Huawei, HTC, D-Link and TP-Link's 2022 range of 4G and 5G routers compare, from budget to high end models?
We've shortlisted them into three categories depending on whether you need a no-frills basic model, a state of the art 5G, or the sweet spot of price and performance in between.
1) Entry Level
If you've landed on this page because you're just looking for the best way to get online without needing a home phone line, these entry level models are the best place to start.
The higher priced models may offer more in the way of home networking performance and a wider range of configuration options, but many people won't actually need these features. In the real world the 4G performance will probably be very close to all but the very high end models.
For basic mobile internet access you could instead consider a battery powered mobile dongle, or a smartphone providing a shared internet hotspot. However, these methods have limitations that make them better suited for temporary or backup internet access only.
The models on this page are all mains powered and are far better suited for full time use. They also allow you to fit an external 4G antenna which can be helpful if you only get low signal strength where you live.
These entry level models should generally be available for under £100.
2) Mid-Range
The routers in the mid range category have higher performance and features than the basic models above. They have higher maximum download speeds (4G signal permitting). You also get much faster 802.11ac Wi-Fi and Gigabit wired Ethernet.
They range between £100 – £200.
Usually the differences between entry level and mid range models come down to features, wired and wi-fi networking performance, rather than 4G speed.
3) Premium
These premium routers represent the current state of the art for 4G and 5G internet routers. Prices aren't taken into account for this selection – it's just about finding the best performance options available.
As these router are usually the top of the range from each manufacturer, they tend to include the latest and greatest specifications on networking and features.
In 2022 there is still a price premium on 5G models. High end 4G routers can often match then on local networking abilities at a reduced price due to being 4G only.
Entry Level
Affiliate links / prices updated 2023-03-18
D-Link DWR-921
The DWR-921 dates from several years back and this is reflected in the limited wired and wireless transfer speeds. However it is one of the cheapest routers here and if you just want mobile internet access it could still serve you very well.
TP-Link TL-MR6400
The MR6400 is TP-Link's entry level 4G router. As with the D-Link DWR-921 it only offers 100Mbps wired networking and WiFi4 wireless. Wi-Fi4 is slower than the newer standards to begin with, and also it's more likely to suffer with interference from neighbouring wireless networks which can reduce speed even further.
TP-Link are a respected brand though and if you are only need a device to connect to and share an internet connection this model should have everything needed at a budget price point.
Huawei B311
Supplied by Three in the UK under the name "HomeFi", the Huawei 311 is also available to be bought online without having to sign up to a contract.
It's a fairly basic Cat4 router meaning a maximum download of 150Mbps and 50Mbps upload. It's available for around the £60 mark though and is the only router at this price that comes with 1,000Mbps Gigabit Ethernet. Only one port though compared to the others that have four.
The 300MBps Wi-Fi networking is normal on these lower end devices.
D-Link DWR-953
The D-Link DWR-953 is only a Cat4 device which gives the same 4G upload and download as the other models. For day to day browsing this should be perfectly fine, unless you want to download large amounts on a regular basis and so went with an unlimited 4G contract. Generally most 4G contracts still have much lower monthly data caps than fixed-line services (usually 15GB – 50GB a month).
The DWR-953 stands out in this category with four Gigabit ports and much better 802.11ac Wi-Fi5 wireless. If you want a proper router for a more serious home network but perhaps only use the internet data fairly lightly, then it offers everything the more expensive mid and high end models here, but at a significantly lower price.
Recommendations – Entry Level
If you want the best technology, the D-Link DWR-953 offers much better networking abilities with it's Gigabit Ethernet and 802.11ac Wi-Fi 5. However, it is also the highest priced router in the entry level category, and is equaled on 4G performance by all the other models.

The runner up is Huawei B311. Usually the cheapest of the four, it also benefits from a Gigabit wired network port.
Mid Range
Affiliate links / prices updated 2023-03-18
Huawei B525
The B525 offers a good spec with no weak points at a great price. With real world 4G speeds still only in double figures, the solid 300/50 Mbps download/upload is unlikely to be a limitation any time soon.
On the networking front, it's great to have four proper Gigabit (1,000Mbps) wired network ports, and 802.11ac Wi-Fi5.
Huawei B535
The B535 is provided by the Three network in the UK under the a name "HomeFi Plus". It's also available unlocked as a stand-alone purchase from Amazon for use on the network of your choice. It stands out as the only 4G router here that offers 100Mbps upload speeds. Downloads speeds are the usual "up to" 300Mbps.
The B535 offers the newer Wi-Fi5 standard (802.11ac) wireless networking and four Gigabit wired network ports. Up to 64 devices can be connected on Wi-Fi. This level of networking performance should be all that you'll need for at least the next couple of years.
Huawei B628
A recent addition to Huawei's router lineup, the B628 offers a welcome increase in 4G download speed for very little additional cost.
Huawei brand this router as the 4G CPE Pro 2, indicating it to be a companion to their top of the range 5G CPE model. It's missing the 5G and top end Wi-Fi 6Plus of the 5G model, but still leads the way in the 4G mid range class.
Similar in appearance to Huawei's more expensive B818 and their 5G router range, the B628 offers maximum 4G speeds of 600Mbps (down) and 100Mbps (up). This design is limited to just two Gigabit ports, but does still offer TS9 external antenna connectors.
The clear winner in the 4G mid range class, however some compromise has been made on its Wi-Fi spec, which limits it to a maximum 1,200Mbps 802.11ac from Wi-Fi5.
TP-Link AC1200 4G+ Cat6
Having recently dropped in price, the TP-Link AC1200 offers great value and performance. Spec wise, it's too close to call between the AC1200 4G+ and Huawei's B525. Both offer 300/50 4G speeds, 802.11ac WiFi and four Gigabit ports. These TP-Link routers are excellent value and are sometimes discounted to around £100 on Amazon.
Recommendations – Mid Range
Its 4G performance makes the Huawei B628 stand out, and is an excellent choice. It offers faster downloads speeds than all the other models at a still reasonable price.
Premium
4G down/up
1800/250 (5G)
1600/150 (4G)
Recommended
4G down/up
1800/250 (5G)
1600/150 (4G)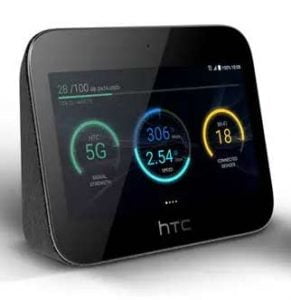 Affiliate links / prices updated 2023-03-18
Huawei B818
The B818 has been available from Huawei since 2019 and is still probably the fastest 4G router available.
It's the only router in the Premium section that is not 5G. While that makes it less future proof than the 5G models, in 4G only areas it should be able to match them for speed, and at a lower price.
Classed as LTE Cat19, it offers theoretical 4G downloads of up to 1,600 Mbps and uploads of 150 Mbps – both around three times higher than most other 4G models here.
For an idea of real world speeds, Vodafone in Germany use the B818 for it's high end 4G service where it goes by the name "GigaCube CAT19". Vodafone offers up to 500Mbps download on their network and real world 4G tests have shown download speeds around 300Mbps.
On the networking side the two Gigabit ports and 802.11ac Wi-Fi 5 should be sufficient, although Wi-Fi 6 is now becoming common at this price point and does offer noticeably higher speeds.
The B818's selling point is it's top of the range 4G specification. There's no reason why it couldn't be used to completely replace a fixed-line broadband service, and unless you live in an area with very poor 4G reception, it may in fact be faster than some FTTC cable connections.
Huawei 5G CPE Pro 3
Since early 2019, Huawei's 5G CPE Pro routers always offered high performance levels for those willing to pay a premium price.
Version 3 of the 5G CPE Pro was released in early 2022. Compared with the older version 2 model it has slightly lower specs in some areas, but it also has a lower price this time round.
This newest (version 3) router has a lower theoretical maximum 1,800 Mbps download in 5G mode, compared to the 3,600 Mbps of the previous model (v2).
Wireless networking is still Wi-Fi6 802.11ax on both models, but the version 3 maxes out at 1,800Mbps (AX1800) compared to 3,000Mbps of the earlier, more expensive AX3000 model.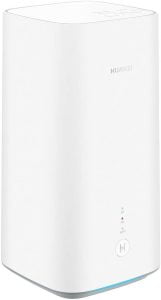 4G performance
In locations where 5G isn't yet available, the Huawei 5G CPE Pro 3 should still match the fastest 4G router here with downloads up to 1,600 Mbps and upload of 150 Mbps.
While the upload seems low in comparison, it should be noted that previous gen 4G routers usually only manage 50Mbps, so this 5G-ready device is still quite an improvement.
5G performance
Where 5G is available the 5G CPE Pro 3 offers the following performance potential:-
Download – up to 1,800 Mbps *
Upload – up to 250 Mbps
* "Data from HUAWEI laboratories. The actual speed may vary depending on network conditions and internet data plans."
Wi-Fi
Wi-Fi is the latest 802.11 AX1800 sometimes called Wi-Fi 6 Plus. This offers speeds up to three times that of Wi-Fi5 802.11ac along with lower latency. Huawei claim a maximum transmission rate of 1,800 Mbps, and the ability to connect up to 128 devices.
As with the 4G Huawei B818 and previous 5G CPE Pro models, Gigabit Ethernet networking is included but limited to just two ports at the back.
HTC 5G Hub
Unlike Huawei's 5G CPE Pro that is fairly traditional looking router, the HTC 5G Hub is more of a multi-function device.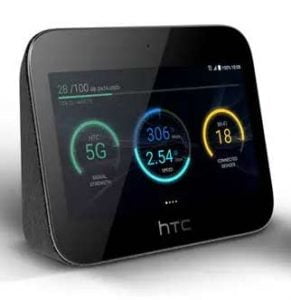 Unique to the 5G Hub is the 5″ 1280×720 touch screen on the front of the unit.
The unit can play back up to 4K UHD video and audio in the following formats:-
Video – 3gp, .mp4, .ts, .webm, .mkv
Audio – 3gp, .mp4, .m4a, .aac, .ts, .flac, .mp3, .mid, .ogg, .mkv, .wav, .amr
Inside there's a Qualcomm Snapdragon 855 8-core CPU. This runs the Android operating system (version 9). Apps can be downloaded and installed from the Google Play store.
There's 4GB RAM, and file storage can be expanded up to 512GB with a microSD memory card.
A maximum of 20 devices can access the HTC Hub via WiFi making this an excellent option for providing a very fast mobile hot spot.
Recommendations – Premium
The Huawei 5G CPE Pro 3 is the winner here. It's the equal fastest 4G router available as well as being 100% ready for 5G. The previous Version 2 model does have faster 5G and Wi-Fi but now in 2022 is significantly more expensive.
Further reading:-
Features Guide
4G Download / Upload Speed
All 4G devices are assigned an LTE UE category between 0 and 19, depending on their specification.
The budget models here are generally category 4 which means they all have a maximum download speed of 150Mbps and 50Mbps upload.
As the price increases you'll find models higher up in the LTE category table. Download speeds here increase to the range of 300Mbps – 600Mbps, but uploads are still usually limited to 50Mbps.
Above this, even higher speeds are available but they don't come cheap.
Currently 5G devices are not included under the UE-LTE categories. Generally though they should match Cat19 speeds when on 4G and nearly double this where 5G is available.
Of course these "theoretical" internet speeds are higher than you'll usually reach in real world use. However, as long as you are not affected by a large number of people overloading the same cell tower, then a higher category device should still run faster than the lower category models.
LAN Ports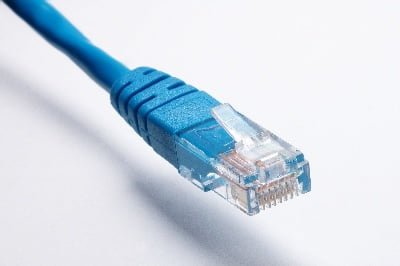 All the routers here have at least 1 and usually 4 wired network (LAN) ports for connecting Ethernet network cables. The cheaper models only offer "Fast Ethernet" which limits the connection to around 100Mbps (11MB/sec megabytes a second).
If you only need a router for internet access the above should be sufficient. However if you want to transfer files across multiple devices or perhaps store some files centrally on a NAS, then 100 Mbps Ethernet will be a major bottleneck.
In these scenarios either pay the extra for a router with Gigabit ports, or as an alternative a separate Gigabit switch can give full 1,000Mbps transfers between devices while at the same time sharing access to the 4G router as an internet access point.
Wi-Fi Standard
This column shows the Wi-Fi standard (802.11) and capabilities of the router. The best standard here is 802.11ac or 11ax – now renamed to Wi-Fi 5 and Wi-Fi 6. All standards are backward compatible so older equipment can still connect to an 802.11ac network, but it will only run at the slower speed.
All routers here offer at least 802.11n on the 2.4GHz spectrum. This should give "up to" 144Mbps or 300Mbps depending on the channel width setting, distance from the router and possible interference from overlapping signals nearby. They are shown in the table as Wi-Fi 4.
All of the mid and high end routers have 802.11ac. Going forward this is named Wi-Fi 5. This is a newer standard and combines both 2.4GHz and 5GHz channels and can give speeds that theoretically match wired Gigabit Ethernet at close range. For maximum real word performance though I'd still go with wired Gigabit were possible.
Many of the top end models now come with Wi-Fi 6 and Wi-Fi 6 Plus. Combined with the growing number of smartphones, laptops and PC wireless cards that are also Wi-Fi 6 this provides some excellent networking performance that can in some circumstances beat even a fully wired Gigabit connection.
In summary:-
Wi-Fi 4 is more likely to suffer from interference from neighbouring wi-fi networks and also sometimes from electrical equipment. If Wi-Fi transfer speeds are important to you, avoid Wi-Fi 4 and go for a model with Wi-Fi 5 or Wi-Fi 6.
802.11n is Wi-Fi 4, max 300 Mbps
802.11ac is Wi-Fi 5, max 1200 Mbps
802.11ax is Wi-Fi 6, generally 1700 – 3000 Mbps
One factor to bear in mind is whether the devices you'll connect to your router support the faster standards. There's little point (other than future proofing) in paying extra for 1800Mbps 802.11ac if your PC / laptop / phone only work at 300Mbps 802.11g for example.
The inSSIDer software can be very helpful in displaying your networks signal strength and detecting other nearby networks which may be causing interference.
External Antenna Connection Type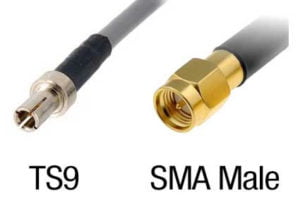 Depending on your location, using your routers built in antenna may work fine. In lower signal areas though, attaching an external antenna can often make a big difference.
There are generally two types of connector for attaching an external antenna. SMA and TS9. Adapters are also available to convert between the two sizes of connectors.
We've gone into a little more detail on choosing an external 4G antenna here.
Prices updated on 2023-03-18. Affiliate links & images from Amazon Product Advertising API