Jan 28, 2020
I've been exclusively using 4G providers for my internet access in the UK since 2015. A few months ago I read about a company called Smarty that were offering unlimited data usage for under £25 per month.
They had a score of 4.5 out of 5 on Trustpilot but sadly my experience was not good. Read on….
At the time I'd been with Vodafone for nearly 2 years, paying a discounted £27 per month for 50GB of data.
Once my 2 year contract was up the discount would end and they were going to increase this to £34 (£9 higher than for new customers). So much for rewarding customer loyalty eh?
All the following tests were carried out on my Huawei B593 router with external antenna – details of my setup can be found here.
| | |
| --- | --- |
| Pros | Cons |
| Unlimited data for a low price | Terrible 4G performance |
| No fuss 30 day contract | Other providers now offer unlimited data for a reasonable price |
The Good
Smarty obviously appealed to me compared to Vodafone as they offered unlimited data for less money. Also the contract is on a 30 day pay-as-you-go basis meaning you're not tied in, and no credit check is needed so there's no need to provide a 5 year address history or anything like that. You just pay your money and tell them what address to post the sim to.
The online sign up process was easy. I paid the first 30 days via credit card and the envelope with SIM and welcome pack arrived around 2 days later.
Things looked pretty good at first. Signal strength was very good, as least as strong as with Vodafone. At around 10am the initial speed test fluctuated pretty wildly but the end result was almost as good as I got on Vodafone at around 16Mbps up/down.
The ping time was in the high 30s which was fine for me. Vodafone had been a little better, normally around 25-30 but both were acceptable.
YouTube played both 720p and 1080p with no buffering so all seemed well.
The fluctuating speed test was a warning of things to come though…
The Bad
Later in the afternoon I started to notice webpages not opening properly. They'd either just sit at a blank page for a couple of seconds, or fail to load at all.
I tried pinging a few websites and the problem became clear…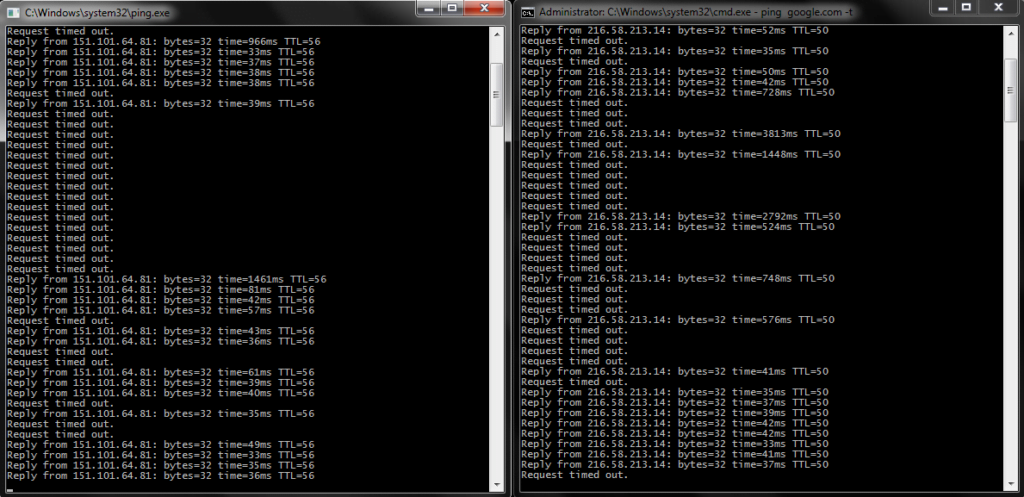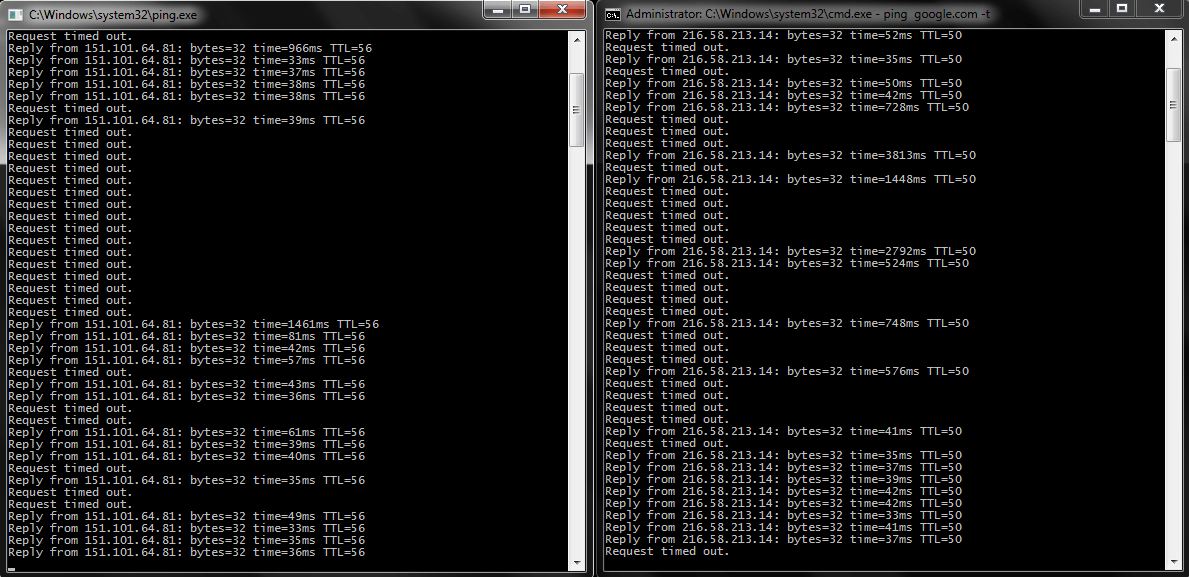 The screen shot above shows two windows running simultaneously. Both bbc.co.uk and google.com ranged from replying in under 40ms to timing out completely, sometimes for 10 or 20 seconds at a time.
Below is a particularly bad example I recorded where basically everything timed out, or if it did get a reply the latency was often nearly half a second…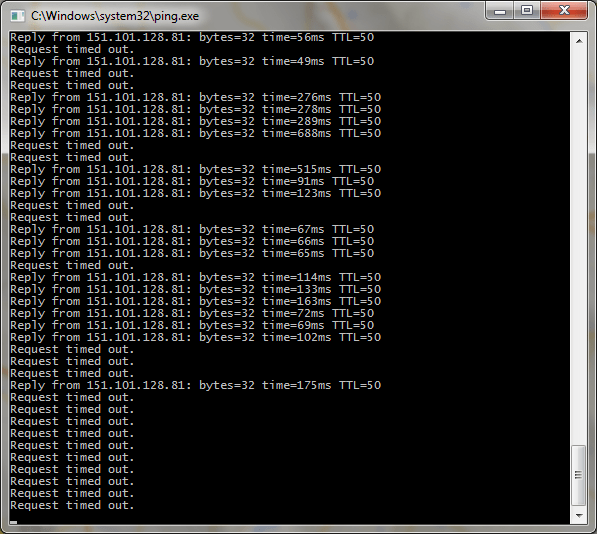 This contrasts with rock solid sub 40ms pings – but only in the early hours of the morning!
Workaround – 3G Mode
From previous experience using EE 4G in weak signal areas I'd found that manually changing to 3G from 4G when speeds got bad would often help, but at the expense of slower upload speeds and increased latency on 3G.
While this did make a slightly improvement on Smarty, it wasn't enough. By around 9am each day, 4G would be unusable. Switching to 3G would get things working but still with many timeouts. This can be seen from the speed tests below taken around midday during the week:-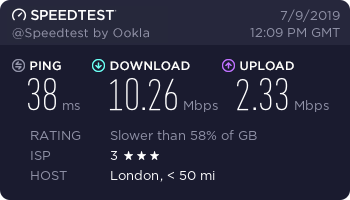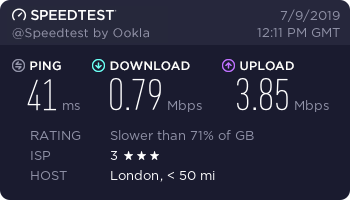 Conclusion
The problems I had could be related to overloading on the network as I was near a University, and just outside a town centre.
The nearby University would explain the issues starting around 9am, but cannot be the whole story as often it wouldn't be until 10 or 11pm that 4G would become usable.

Another important point to make is that Vodafone 4G was rock solid in the same location, 24 hours a day.
I was glad to leave Smarty and in future will think very hard before committing to them or the Three network again.*
* Update (Nov 2020); ignoring my own advice I have just tried SMARTY again in a new location. It didn't go well! As the saying goes, "fool me once, shame on you; fool me twice, shame on me"
Fortunately cancelling was easy. The online account dashboard has an easily accessible "Cancel" button, so you can leave with just one click. I hate other providers who don't allow you to cancel online and force you to telephone.
Other than one or two "we're sorry you want to leave…" type emails they left me alone.
Just note that even though it's supposed to be a 30 day pay as you go (PAYG), you still have to give 30 days notice. So if you decide to cancel on say day 27 out of 30, you'll still have to stay an additional 30 days from the date you click cancel.