1st January 2020
Subscribe to a UK 5G service provider right now, and you'll receive one of two routers; Vodafone and Three will send you a Huawei 5G CPE Pro, while EE supply the 5G Hub Router from HTC.
Vodafone call their 5G router the "GigaCube 5G" and Three go with "Three 5G Hub", but underneath they are the same model – the Huawei 5G CPE Pro.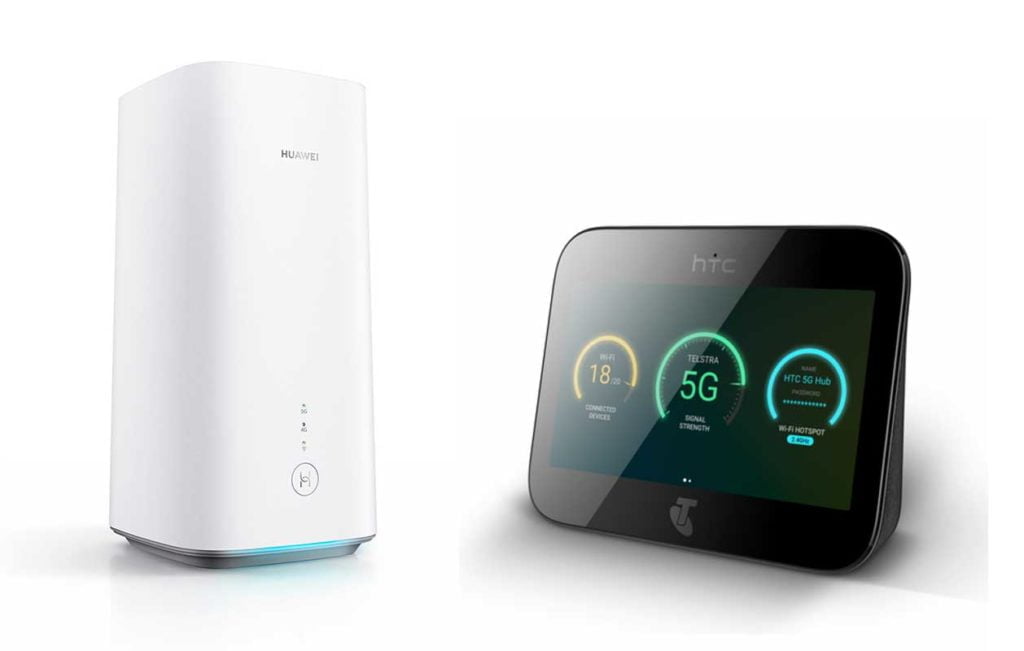 Related:-
Comparison Table
| | Huawei 5G CPE Pro | HTC 5G Hub |
| --- | --- | --- |
| 5G Down | 2,330 Mbps | 2,630 Mbps |
| 5G Up | 250 Mbps | 287 Mbps |
| Antenna | TS9 | ✗ |
| Ethernet | 2x Gigabit | 1x Gigabit |
| WiFi | 802.11ax | 802.11ad |
| Wifi Devices | 64 | 20 |
Where to buy a 5G router
If you like the look of these latest 5G routers but don't live in a area where 5G is available yet, you can still purchase them to use on 4G.
EE in the UK supply the HTC 5G Hub for a £100 up front payment when you take out a 24 month 5G contract. US based readers may be able to buy from Sprint.com as a stand alone unit, but only if you live in an area covered by Sprints 5G network.
The Huawei 5G Pro is easier to obtain without needing to sign up to a contract. It's being sold on Amazon.co.uk and is also available from some overseas suppliers online, including AliExpress.
Huawei 5G CPE Pro
Pros
Cons

✓

Fantastic wired and wireless networking performance

✘

Slow web admin interface

✓

Incredible (theoretical) 5G speeds

✘

TS9 antenna connectors prone to coming lose
Huawei have continued the general ethos and design of traditional 4G routers with their 5G model. Unlike the battery powered HTC Hub, the 5G CPE is designed to be kept static and powered on 24/7 from the mains.
It requires a 12v 2A input and of course is supplied with an AC adapter to convert your domestic electric supply. It's also a pretty traditional design, although in the newer tower format unlike the older generation of routers which are normally a more rectangular shape.
Underneath it has a great spec although this should be expected for a top of the range high end router in 2019.
Networking
A pair of Gigabit Ethernet network ports give a range of connectivity options and you could always expand this by connecting one of the two ports into a 4 or 8 port wired switch.
Wi-Fi is the latest 802.11ax offering speeds of up to four times that of 802.11ac along with much lower latency. Huawei claim a maximum transmission rate of 5,100Mbps, and up to 64 connected devices.
Huawei – 4G performance
What if 5G is not yet available where you live? If your have the cash available and fancy being an early adopter, the 5G CPE also offers un-matched 4G performance.
Download is up to 1,600Mbps with an upload of 150Mbps. While the upload seems low in comparison it should be noted that previous gen 4G only routers only offer 50Mbps so the 5G-ready device is still an improvement.
Huawei – 5G performance
Probably the most headline grabbing aspect of 5G connectivity is the theoretical speed increase over 4G. While in reality this will be very network dependent, the 5G CPE Pro offers the following performance potential:-
Download – up to 2,330 Mbps *
Upload – up to 250 Mbps
* Huawei claim a maximum 5G download of 2,330 Mbps but this is "under laboratory conditions". The spec sheet for the CPE Pro currently lists the download as 1,650 Mbps. Probably neither figure will be reached in normal, real-world use.
At the time of writing all three networks 5G speeds seem to be around 150 – 200 Mbps download in the real world. This amounts to around 4.5 times faster than 4G across the UK.
Huawei CPE Pro 5G NR Frequency Range
There are two variants of the 5G CPE Pro available:-
| Variant | Wi-Fi | 5G Bands |
| --- | --- | --- |
| – H112-370 | 802.11ax (5,100 Mbps) | n78 |
| – H112-372 | 802.11ac (1,200 Mbps) | n41, n77, n78, n79 |
Vodafone and Three who supply the CPE Pro both use the H112-370. The primary differences are that this version only operates on the n78 5G band, while the H112-372 supports an additional three bands – n41, n77and n79.
All is not lost for UK citizens though, for two reasons:-
The H112-370 model that you'll receive comes with the latest and greatest WiFi 6 802.11ax with downloads up to 5.1Gbps! The other model is limited to *just* 1.2Gbps 802.11ac.
Additionally, the three extra bands on the H112-372 are not used in the UK, and so are surplus to requirements.
Antenna
The 5G CPE allows a MIMO external LTE antenna to be connected via two TS9 connectors. These are less common than SMA connectors but you can buy SMA to TS9 adapters here if you already have an SMA antenna.
HTC 5G Hub
Pros
Cons

✓

Top of the range 5G hotspot

✘

No external antenna connectors

✓

Android OS provides expandability

✘

Slightly older WiFi5 than the Huawei
Unlike Huawei's 5G CPE Pro that is fairly traditional in it's style and features, the HTC 5G Hub is more of a multi-function device.
More than just a 5G Router
Most noticeable is the 5″ 1280×720 touch screen on the front of the unit.
This can play back up to 4K UHD video and audio in the following formats:-
Video – 3gp, .mp4, .ts, .webm, .mkv
Audio – 3gp, .mp4, .m4a, .aac, .ts, .flac, .mp3, .mid, .ogg, .mkv, .wav, .amr
Inside there's a Qualcomm Snapdragon 855 8-core CPU. This runs the Android operating system (version 9). Apps can be downloaded and installed from the Google Play store.
There's 4GB RAM, and file storage can be expanded up to 512GB with a microSD memory card.
Battery or Mains power
Weighing just 340 grams and measuring 129 x 100 x 43mm, the 5G Hub (aka 5GEE) can run from both mains electricity or its built in battery. The battery capacity is 7,660 mAh which HTC say should last "all day".
The battery can be re-charged either from the supplied power adapter or directly into the devices USB-C 3.1 slot.
A maximum of 20 devices can access the HTC Hub via WiFi making this an excellent option for providing a very fast mobile hot spot.
HTC – Networking
The HTC 5G Hub offers great wired and wireless specifications, but falls short of the Huawei. It has a single Gigabit port which should be sufficient, and 802.11ad WiFi networking for fast and interference free wireless connectivity.
HTC – 5G Performance
Download – 2,630 Mbps
Upload – 287 Mbps
HTC 5G Hub – Frequency Range
The HTC model used by EE as its 5GEE router operates on the 5G NR band n78. There is also an American version for US users which works across the slightly lower frequency n41 band.
There are also differences between the two variants regarding 4G frequency bands. Full specs are available on the HTC product page here.
HTC 5G Hub – No external antenna ports
There is no option to connect an external antenna as the HTC simply doesn't have any external antenna ports.
UK 5G Coverage (2020)
* I recommend checking Kens Tech Tips for a fully up to date list of 5G coverage.
| | | |
| --- | --- | --- |
| | EE | Ashton-under-Lyne, Belfast, Birmingham, Bristol, Cardiff, Castlereagh, Chatham, Clifton, Coventry, Dudley, Edinburgh, Gillingham, Glasgow, Grays, Guildford, Hamilton, Harlow, Hoddesdon, Huddersfield, Hull, Kimberley, Kingston-upon-Thames, Leeds, Leicester, Lichfield, Lisburn, Liverpool, London, Maidstone, Manchester, Milnrow, Newcastle, Nottingham, Oldham, Potters Bar, Rochdale, Romford, Salford, Sheffield, Solihull, Sunderland, Sutton Coldfield, Sydenham, Walsall, Watford, West Bromwich, Wolverhampton |
| | O2 | Belfast, Cardiff, Edinburgh, Leeds, London, Slough |
| | Three | London |
| | Vodafone | Bebington, Birkenhead, Birmingham, Bolton, Bootle, Bristol, Cardiff, Droylsden, Eccles, Gatwick, Glasgow, Horwich, Huyton-with-Roby, Isle of Scilly, Lancaster, Liverpool, Llandudno, London, Manchester, Mangotsfield, Newbury, Paisley, Penarth, Plymouth, Prestwich, Salford, Solihull, Stoke-on-Trent, Stretford, Wallasey, Warrington, Wolverhampton |
UK 5G Frequencies
In the UK, 4G operates across a range of bands between 800 MHz and 2600MHz. 5G is at much higher and tighter range than 4G. For a full table of the frequencies used for 5G, check out the Wikipedia article here.
In April 2018, the UK 5G spectrum was divided between the four operators as follows. O2 is unusual here as it owns a portion on the n40 band as well as the n78 used by the others:-
| | | | |
| --- | --- | --- | --- |
| | | Frequency | Band * |
| | O2 | 2350 - 2390 MHz | n40 |
| | Vodafone | 3410 - 3460 MHz | n78 |
| | Three | 3460 - 3480 MHz | n78 |
| | O2 | 3500 - 3540 MHz | n78 |
| | EE | 3540 - 3580 MHz | n78 |
* You'll see the specs of the above routers quote the bands they operate on as 5G "NR". The NR here simply stands for "New Radio" making 5G NR the global standard for 5G networks around the world.