20 Oct 2020 (updated 26 Jan 2022)
Nvidias Shield TV device is a networked media player that can turn any screen with an HDMI input into a Smart TV.
First launched in May 2015, this is now the third iteration and further improves what was already one of the best streaming TV media players available.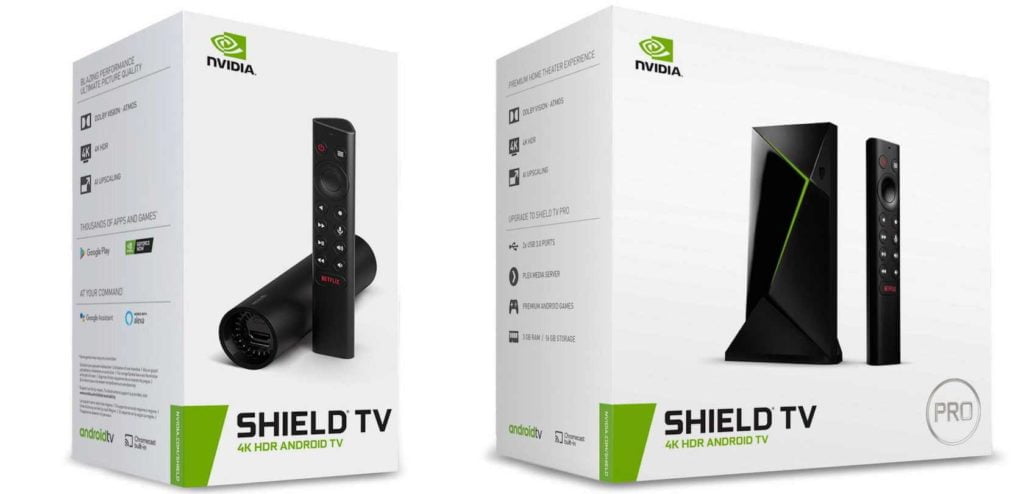 The standard 2019 Shield TV has been re-designed into a smaller, tubular shape, while the $50 more expensive Pro version keeps a similar rectangular design to the earlier models.
Both models now share the same triangular style remote controller. The "Pro" version has a higher spec but is it worth paying the extra for? Let's see…
The standard Shield contains an internal cooling fan. By default this is set to "quiet" mode which is all but silent even if you hold it to your ear.
The "cool" mode increases fan speed and can be heard as a slight buzzing noise at distance of a few metres in an otherwise silent room.
Storage
The Shield TV Pro comes with double the storage capacity (16GB instead of 8GB). This offers more space for downloading Android apps from the Google Play store, and probably more importantly extra room for game downloads.
RAM
As with storage spaces, the 2019 Shield Pro has 50% more RAM (3GB over the standard version 2GB). This could be particularly useful if you want to play games on your device.
Ethernet
Both versions of the 2019 Shield have a Gigabit Ethernet port, which is still the best choice for fast and stable networking.
WiFi
Both devices are equal when it comes to wireless networking too. Their 802.11ac Wi-Fi should be fast and avoid the problems of interference that older standards can suffer from.
USB
The standard Shield TV has no USB port, while the Pro version has two USB 3.0. These could be used for connecting extra storage, an external keyboard or even to connect to another computer to carry out diagnostics and software up/downgrades.
MicroSD slot
Both devices have a slot for a MicroSD card that can be used to expand storage.
High Dynamic Range
HDR is short for High Dynamic Range. This is sometimes called HDR10. It offers a wider range of color shades and can show greater detail in dark areas of the picture and at the same time brighter whites.
HDR 8bit, 10bit, 12bit
For many years DVDs and Blu-rays all output on three channels of color; red, green and blue (RGB). Each of these channels could be at one of 256 levels, giving a maximum of around 16 million colors.
While this may seem a lot, HDR10 offer 4 times as many levels per channel (1024), and the 12bit HDR used by Dolby Vision has a huge 4096 levels.
Dolby Vision
Both devices have hardware accelerated support for 4K UHD playback in H.265 / HEVC format. Along with this they can output a High Dynamic Range picture if your TV supports it. Three standards are offered (HDR, HDR 10-bit and best of all Dolby Vision).
Dolby Vision is the best of the three HDR standards as it offers 12 bit colour and up to 4 times higher brightness levels than 10 bit HDR.
Another upgrade is that normal HDR has fixed metadata which is setup information given at the start of the video file which cannot then be changed afterwards. Dolby Vision has dynamic metadata where film makers can determine how to best show each shot, scene or even frame.
These new formats are found on 4k UHD Blu-ray discs, and also online from Netflix, Amazon Prime Video, Apple iTunes and Vudu.
Dolby Atmos
Dolby Atmos audio can be found on Blu-ray discs and also can be streamed online. Atmos can work with up to 34 separate speakers, but is backwards compatible with traditional 5.1 or 7.1 surround systems, and soundbars too.
A.I. up-scaling
Both versions of the 2019 Shield offer three settings for up-scaling lower resolution videos to a higher resolution screen. These are basic, enhanced and, unique to Nvidia, AI-enhanced.
While there have been rave reviews of the AI Upscaling, in my personal opinion I preferred the basic setting. I found the others could overly sharpen edges and even make pixels more visible than before. This was however up-scaling a 720p source to 1080p. Perhaps on a 4K screen it would have worked better.
Plex Server
A key difference between the two models is that the Shield Pro has a built in Plex media server. This can serve as a central hub to store and share media files to all other devices on your network.
It should be noted that both devices can have the Plex Media Center player app installed which can play video and audio from across a home network. However, only the Shield Pro has the built in server to share files in the opposite direction.
SmartThings
The Shield TV Pro can also be used as a hub for the SmartThings IOT (internet of things) smart home system. This is not possible on the standard Shield TV as it doesn't have the USB port needed for connecting the SmartThings USB link dongle.