In 2015 I started living somewhat "off-grid". With no phone line I had to find an alternate way to get online.
Since then 4G has become 5G, and speed and coverage have improved massively over the years. There are now a wide range of 4G routers, hot-spots and access points available, from USB battery powered dongles to top of the range next gen 5G routers with Gigabit Ethernet and 802.11ac Wi-Fi.
Is it worth paying extra for one the premium models, or might a cheaper model provide everything you need?
Check out the comparison table below then read on for a buyers guide on what these features mean…
What is a 4G Router?
These routers provide (in their simplest form) an internet hotspot. In the same way as a smartphone can be set to share its internet connection, the same applies here. Their advantage is they're more flexible and offer far more features than a wifi hotspot.
Being mains powered they're designed for 24/7 use, and form the central access point to a network. All but one of the routers here have wired network ports. The top end models also have the latest Wi-Fi standard (802.11ac, soon to known as Wi-Fi 5).
Asus 4G-AC68U
The Asus 4G-AC68U is different from the rest of the 4G routers detailed here. It's a traditional cable/FTTC broadband internet connection, but also has provision for connecting via a cellular 4G sim card at the same time.
It offers excellent networking capabilities and good but not class leading 4G. Despite sporting the fastest Wi-Fi here at 1900Mbps, it falls short of the Huawei B618's 4G speeds by only offering CAT6 300 download and 50 upload.
Of the four aerials on top, the middle two are fixed and are used for transmitting the 802.11ac WiFi. The outer two aerials are for the 4G LTE. You can stick with these, or they can be removed to allow the connection of an external antenna that can improve signal strength by mounting in a window or on the roof.
Alternatives: TP-Link AC1200 4G+, Huawei B618
Pros
Cons
Combined Fibre and 4G Router

✘

High Price

Fast WiFi

✘

Has some firmware bugs
Verdict – Asus 4G-RT68U
The Asus 4G-RT68U is an exceptionally well featured cable and LTE router. It has top of the range WiFi performance but at a premium price.
Netgear Nighthawk R7100LG
Like the Asus above, the Netgear Nighthawk is a dual wired and 4G router. Netgear describes the 4G as a "fall-back", and there are some catches to this router when it is in 4G mode.
Excellent feature set
The Netgear Nighthawk offers excellent features in keeping with a high end model. There's full control over such things as Firewall and security options, VPN, media sharing and QoS.
WiFi
Combined 2.4Ghz and 5GHz 802.11ac gives up to 1900Mbps WiFi; great! Sadly, if using a 4G sim this drops to just 300Mbps which is the same as the budget 4G models here that are available for a third of the price of the Nighthawk.
Antenna connections
The three antennas can be removed and replaced with aftermarket versions. They have an unusual connector though, so adapters would be needed for connecting to external antennas.
4G LTE: True broadband access where wired connectivity is unavailable or inconvenient
Fast USB 3.0 access: Twice the USB storage access and faster connections using two USB ports
Compatibility: Gigabit Ethernet WAN port provides universal compatibility with any Internet service
NETGEAR genie app: Easily manage, monitor, and control your home network from PC, tablet or smartphone
Pros
Cons
Fast 802.11ac 1900Mbps WiFi in wired only mode

✘

Only offers 300Mbps WiFi when 4G enabled

Powerful hardware spec

✘

Unusual RP-SMA antenna connectors

Great feature set – Firewall, VPN, DLNA, QoS and security.
Verdict – Netgear Nighthawk R7100LG
The Nighthawk has good specs to go with it's premium price as a broadband router. However if using 4G for mobile broadband it suffers some compromises. At this price point, unless you need a dual cable/4G router our recommendation would be to look either a Huawei or TP-Link model.
It could be worth considering if you want a 4G router with awide range of configuration options, and are not bothered about transfers speeds across WiFi though.
Huawei E5573
The best value here, the E5573 is one step up from using your mobile as a hot spot. It's battery should last longer and enables it to be placed to pick up the best 4G signal. However for heavy internet users it can be annoying to have to plug it into USB to recharge from time to time.
Being a battery powered dongle it lacks any wired LAN ports making it best for light and/or occasional use. If you're looking to replace a land line connection then an always on mains powered router would probably be better.
Pros
Cons
Mobile – take it anywhere

✘

No wired network ports

Great value
Verdict – Huawei E5573
The E5573 could be just what you need for off grid internet access. Obviously it doesn't have the advanced features of the other models here but it offers good performance in a light and portable package.
Huawei B315
Huawei offer a range of 4G / LTE routers, with the B315 offering mid-range features for a good price. The maximum download of 150Mbps should be sufficient for most, and the SMA connectors on the rear allow the use of an external antenna which should boost the signal in lower strength areas.
It is a little held back when it comes networking. The LAN ports are Gigabit (1000Mbps) but WiFi is a maximum of 150Mbps. In testing this gave real world figures of only around 7MB/sec up/down on WiFi, but close to 100MB per second via LAN.
Sale!
Huawei B315 Router is UNLOCKED to all networks, so use the SIM card of your choice (SIM card not provided)
Produce a powerful Wi-Fi hotspot connecting up to 32 devices, with a powerful 250-meter Wi-Fi coverage
4G Router supports a rapid download speed of 150 Mbps, so enjoy your incredibly fast internet experience
Able to connect to your smart phone, tablet, gaming consoles, laptop, plus many more!
External Antenna Interface: 2 x SMA . Wi-Fi Protocol: 802.11b/g/n
Alternatives: D-Link DWR-921, TP-Link TL-MR6400
Pros
Cons
Ideal step up from a battery powered mifi or smartphone hotspot

✘

Limited by slow wired and WiFi transfer speeds
Verdict – Huawei B315
The Huawei B315 comes from a good pedigree and is a strong contender if you need more power and features than a cheap battery powered unit, but don't require top-end wireless or 4G performance.
Huawei B525
While slightly older than the range topping B618, the B525 runs it a fairly close second for a more reasonable price. It basically sits in between the B315 and B618 when it comes to spec and price.
Like the B315 it allows the use of an external antenna, but has the advantage of Gigabit network ports and much faster 802.11ac WiFi.
Sale!
Huawei B525 router is UNLOCKED to all networks, so use the data SIM of your choice (SIM card not provided)
Produce a Wi-Fi hotspot connecting up to 64 devices, with a powerful Wi-Fi coverage
4G Router supports a rapid download speed of 300 Mbps, so enjoy your incredibly fast internet experience
A stylish and slim design to fit in perfectly with your home furniture
Able to connect to your smartphone, tablet, iPad, computer/ laptop, gaming consoles, plus much more!
Alternatives: Huawei B618, TP-Link AC1200 4G+
Pros
Cons
Proper Gigabit LAN ports

✘

Other models are available with even faster 4G or WiFi
802.11ac WiFi
Verdict – Huawei B525
If you're looking for something at the higher end but find the B618 too expensive then the B525 is a good compromise.
Huawei B618
This is Huaweis latest and greatest 4G router. Premium price but currently in April 2019 it is the best available, short of moving to 5G of course!
The Asus AC68U may offer faster theoretical Wi-Fi at around the same price, but the B618 is in a class of its own when it comes to 4G potential.
The main variant of the B618 is the B618-22d. This is the version available in the UK and is also suitable for use across Europe and Asia. Check which frequencies your network uses here. The alternate version is the B618-65d. The specs are shown below with the differences in bold:-
B618-22d:-
FDD 800 / 900 / 1800 / 2100 / 2600 MHz
TDD 2600MHz
B618-65d:-
FDD 700 / 850 / 900 / 1800 / 2100 / 2600 MHz
TDD 2300 MHz
On the Wi-Fi front it offers up to 1300Mbps if your devices support 802.11ac. While this is technically a little higher than wired Gigabit speeds, in reality factors like signal interference and distance from the router mean a wired connection will likely still be faster, and have significantly lower latency.
It's a good thing then that it also offers two Gigabit LAN ports on the rear. Above these is a single USB 2 port. This gives the option of sharing audio or video files across your network by attaching a USB HD or thumb drive.
Sale!
Huawei B618 router is unlocked to all networks, so use the SIM card of your choice (SIM card not provided)
Produce a Wi-Fi hotspot connecting up to 64 devices with a powerful Wi-Fi coverage.
4G Router supports a rapid download speed of 600 Mbps as it uses CAT11.
Able to connect to your tablet, handset, gaming console, laptop and many more!
A stylish design to fit in perfectly with your home furniture.
Alternatives: Asus 4G-AC68U, TP-Link AC1200 4G+
Pros
Cons
Far and away the best 4G performance

✘

Premium price
Attractive design

✘

Not available in all countries yet
Verdict – Huawei B618
GroupTest Winner!
The Huawei B618 wins here with it's category 11 4G performance which gives it around twice the download speeds of the other models. It also has all the premium features you could want; fast WiFi, Gigabit wired networking and external antenna support. If you're looking for off grid internet access and want the best then this is our recommendation.
D-Link DWR-921
I've tried a few D-Link routers and switches and they've always worked well. The DWR-921 is an older model but can still compete with the newer Huawei B315. It's 4G and LAN networking performance is the same, so again; fine for internet access but limited compared to newer hardware. Unless you have a brand preference I would go with whichever is cheaper at the time of purchase.
Sale!
Simply insert your SIM/USIM card and share your 4G LTE or 3G Internet connection through a secure wireless network or any of the four Ethernet ports
The DWR-921 4G LTE Router is designed with constant connection in mind. Dual-band 4G LTE and 3G support allows automatic 3G connection if or when the 4G LTE signal strength becomes low
The 4G LTE Router lets you connect to your 4G LTE mobile connection with fast download speeds of up to 150 Mbps and upload speeds of up to 50 Mbps
Register and enjoy Limited Lifetime Warranty support from one of the global leaders in the industry
Alternatives: Huawei B315, TP-Link MR6400
Pros
Cons
Fantastic value

✘

Lacks top end local networking capabilities
Reliable, no fuss off grid internet access

✘

A little long in the tooth nowadays
Verdict – D-Link DWR-921
The D-Link DWR-921 is the best value model here. While it only has mid range networking speeds, if all you're after is a reliable plug-in 4G router, the D-Link is probably the best option here.
TP-Link TL-MR6400
TP-Link offer a range of 4G / LTE hardware. The MR6400 is at the entry level, and compares with the Huawei B315 and D-Link 921. It offers CAT4 150Mbps 4G and up to 300Mbps Wi-Fi.



Sale!
4G SIM router: share your 4G LTE network with multiple Wi-Fi devices and enjoy download speeds of up to 150 Mbps (unlocked to all networks)
4G mobile router with LAN/WAN port provides options and flexibility, allowing you to choose your connection type
Wireless N speeds of up to 300 Mbps 4G router; system requirements is Microsoft Windows 98SE, NT, 2000, XP, Vista or Windows 7, 8, 8.1, Mac os, Netware, Unix or Linux
Integrated antennas provide stable wireless connections; Internet access for up to 32 devices simultaneously
Requires no configuration - just insert a SIM card and turn it on to enjoy high speed internet access
Pros
Cons
Fair pricing

✘

Only offers 2.4GHz WiFi and 100Mbps LAN
Verdict – TP-Link MR6400
The MR6400 offers adequate performance and features but there are other models that match it for a lower price.
TP-Link AC1200
The AC1200 is the most expensive of the TP-Link range of routers here. Paying the extra gets you 802.11ac, but the same 4G and LAN performance as the cheaper models.
4G LTE - Ideal for sharing your 4G LTE network with up to 64 Wi-Fi devices and enjoy download speeds up to 150Mbps and 50Mbps upload speed
Backward Compatible - Compatible with 4G/3G/2G network
Superior Dual Band Wi-Fi - Combined wireless speeds up to 300Mbps over 2.4GHz, and 867Mbps over 5GHz
Plug and Play - Just simply insert a SIM card and turn it on to enjoy a fast wireless connection, no configuration required. System Requirements : Microsoft Windows 98SE, NT, 2000, XP, Vista or Windows 7, 8, 8.1, 10 MAC OS, NetWare, UNIX or Linux ,Internet Explorer 11, Firefox 12.0, Chrome 20.0,Safari 4.0 browsers or higher, or other Java-enabled browsers Micro SIM Card
Easy Bandwidth Management - Advanced QoS makes it easier for you to manage the bandwidth of connected devices
Alternatives: Huawei B525, TP-Link AC1200 4G+
Pros
Cons
802.11ac WiFi

✘

Wired LAN capabilities don't match it's asking price
Verdict – TP-Link AC1200
The TP-Link AC1200 (Archer M400) offers 802.11ac WiFi for the lowest price here. However it's wired ports and 4G performance are the same as models available for half its price.
Take a look at the new 4G+ model below as it has much better networking for very little additional cost.
TP-Link AC1200 4G+ Cat6
New updated version for 2019. The AC1200 4G+ Cat6 offers two upgrades over the older AC1200; double the 4G download speed (up to 300Mbps) and Gigabit ports (10 times faster than the older 100Mbps ports).
Check what each is currently selling for, but this new version offers significant improvements over the other TP-Link models here and is very much worth paying a little extra for.
Sale!
Advanced 4G+ SIM Router – Supports 4G+ Cat6 to boost the data speeds of up to 300 Mbps. Operating Temperature: 0℃~40℃ (32℉ ~104℉), Storage Temperature: -40℃~70℃ (-40℉ ~158℉)
Superior Dual Band mobile Wi-Fi router – combined wireless speeds up to 300Mbps over 2.4GHz, and 867Mbps over 5GHz;
Full Gigabit ports – provides reliable wired connections for bandwidth-intensive devices such as game consoles and STB
Plug a SIM card and play – no configurations needed, compatibility of SIM cards in 100+ countries are assured by years of field tests
Better signal for connections everywhere – Enjoy stable and efficient connections to every device thanks to the two external detachable LTE antennas
Alternatives: Huawei B618, Asus 4G-RT68U
Pros
Cons
Premium features and performance for the best price

✘

Fast but not range topping WiFi speeds
Verdict AC1200 4G+
With the updated AC1200 Cat6 (4G+) TP-Link can now compete again in the premium segment. It matches it's competitors 4G and LAN performance at a good price.
Features Guide
4G Download / Upload Speed
4G or LTE devices are categorised depending on their maximum theoretical upload and download speed.
While there are currently 19 different LTE categories, for our purposes the devices reviewed here are usually CAT4, CAT6 or CAT11. As the only CAT11 device, the Huawei B618 is the fastest 4G router here, with a maximum download of 600Mbps.
Anyone with experience of "theoretical" internet speeds will know that you won't reach these speeds in the real world. However, as long as you are not affected by a large number of people all accessing the same cell tower at once, then a CAT11 device should still run faster than lower categories.
LAN Ports
All the plug in routers have two to four network (LAN) ports for connecting via Ethernet network cables. The cheaper models only offer "Fast Ethernet" which limits the connection to around 11MB/sec (megabytes a second).
If you only use the router for internet access the above is all you'll need. However if you want to copy files between devices or perhaps store some files centrally on a NAS, then this is a major bottleneck – I know from experience!
If you regularly access files across your network, either pay the extra for a router with Gigabit access, or you could consider attaching a small Gigabit switch to your router then connect all wired devices to the switch instead.
Wi-Fi
This shows the Wi-Fi standard (802.11) and capabilities of the router. The latest and best standard is 802.11ac. All standards are backward compatible so older equipment can still connect to an 802.11ac network, but it will only run at the slower speed.
All routers here offer at least 802.11n on the 2.4GHz spectrum. This should give "up to" 144Mbps or 300Mbps depending on the channel width setting, distance from the router and possible interference from overlapping signals nearby.
The next step up adds a second channel at 5GHz to the 802.11n standard. This higher frequency improves speed and is less susceptible to interference, but at the expense of shorter signal range.
Top of the range comes 802.11ac. This is the newest standard and combines both 2.4GHz and 5GHz channels to give in some cases speeds that can theoretically surpass even Gigabit Ethernet. Although in real word use I'd go with wired Gigabit every time!
One factor to bear in mind is whether the devices you'll use to connect to your router support the faster standards. There's little point (other than future proofing) paying extra for 1900Mbps 802.11ac if your PC / laptop / phone only work at 300Mbps 802.11g for example.
The inSSIDer software can be very helpful in displaying your networks signal strength and detecting other nearby networks which may be causing interference.
External Antenna Connection Type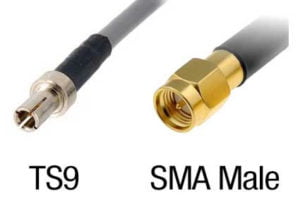 Depending on your location, using your routers built in antenna may work fine. In lower signal areas though, attaching an external antenna can make a big difference.
There are generally two types of connector for attaching an external antenna. SMA and TS9. Adapters are also available to convert between the two sizes of connectors.
We've gone into a little more detail around choosing an external 4G antenna here.
The Netgear Nighthawk uses a reversed version of the normal SMA called RP-SMA. More information on this, including connector sizes, can be found here.
Prices updated on 2020-06-05. Affiliate links & images from Amazon Product Advertising API